---

---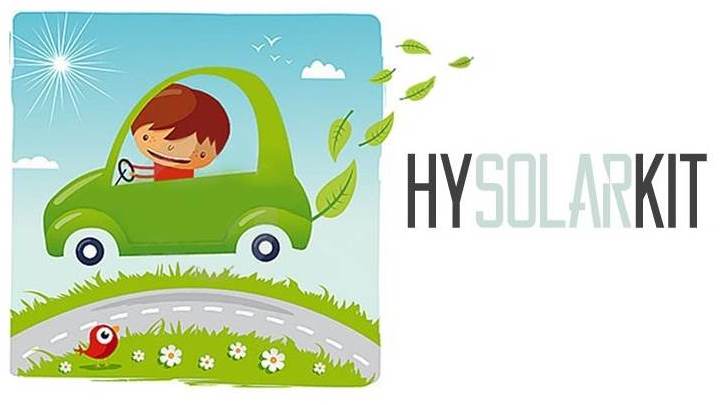 Look at the video on youtube!
FILL UP WITH THE SUN!
How to convert your car into a green and hi-tech vehicle, cutting off fuel consumption and emissions, and without getting poor? Keeping all the advantages and the range of your car, but recharging the battery with the sun? And without sacrificing performance, but rather adding two electric motors that recover braking energy and transform your car in a four wheel drive? With HySolarKit, patented by a group of researchers from the University of Salerno, in Italy.
THE STAFF
The project has been developed by a group of researchers working at the eProLab (Energy and Propulsion Laboratory) in the Department of Industrial Engineering of the University of Salerno: they are Ivan Arsie, Mario D'Agostino, Francesco Di Fiore, Vincenzo Marano, Massimo Naddeo, Cecilia Pisanti, Gianfranco Rizzo, Gina Scorziello and Marco Sorrentino, with several students working at their thesis. The group has received numerous awards for their research on hybrid and solar vehicles and an increasing attention by the media. Further details at www.hysolarkit.com.
THE STORY
The idea is the natural evolution of the studies performed in last years about application of photovoltaic to cars. Some years ago we have developed a former prototype of hybrid solar vehicle, that has participated to different exhibitions and competitions. Then we have tried to extend this solution to conventional cars, at a limited cost: we think that it is rather unrealistic to scrap all the existing cars to pass to hybrid or electric, considering economic crisis.
HOW DOES IT WORK
HySolarKit add two electric motors in rear wheels, photovoltaic cells on car roof and hood, an additional battery pack and a control system, not interfering with the original vehicle ECU, that uses data from OBD port. During braking, rear wheels act as generators, so recovering in the battery the energy that is usually lost in the brakes. The electric motors can therefore contribute to traction, reducing the energy required to the conventional engine and improving average engine efficiency, as in hybrid vehicles. The battery is also recharged by solar panels, that in a day can recruit from 1 to 2 kWh, up to 25% of the energy required for traction for typical urban use (one hour per day driving). In summary, fuel saving and emission cutting of about 20% can be achieved, and even more if recharging the battery also by the electrical grid. But there are additional benefits: reducing the emissions may imply that a EURO3 car can behave as a EURO4, so making it possible driving in Limited Traffic Zones. The kit can be applied to every front wheel car, with a cost of about 3000 €.
WHERE WE ARE
We have studied and patented the idea, discussed it at many conferences and seminars around the world, and started working thanks to a support from the Italian Ministry of University and Research. After a couple of years, with our colleagues at University of Sannio, we have developed the kit and tested it on a FIAT Punto. The tests have allowed to verify that the idea is feasible, that the system works and that there are not strong critical points. Of course we have also detected some aspects to improve, in order to pass from this first working prototype to an industrial product, to be sold at an affordable price.
WHY DO WE NEED YOUR SUPPORT
In order to proceed with our project and pass to industrialization, we need some resources. We have founded a spin-off company (www.eproinn.com), and we are applying for regional and European funds: your support is required to co-finance such projects. Your contribution therefore will act as a precious resource multiplier! We invite you to BET with us on this project: among different options, you could book your kit, with a discount of twice the amount donated! A smart investment! Your support is very much appreciated, since it may contribute to the success of this project, and it will demonstrate to our partner and investors that there is interest toward this product and that it could have a market!
HOW TO SUPPORT THIS PROJECT
You may support this project by donating, paying with PayPal or Credit Cards, starting from 10€. We will give thanks to all our supporters will be on our website. Starting from 100 €, it is possible to have a discount of twice the contribution for future purchase of the kit: a smart investment! Starting from 500 €, it is possible to have your logo on our prototype and on our banners: our sponsors will be mentioned in all our communication and in the Newsletters, addressed to more than 7000 people.



For comments, please mail us at info@hysolarkit.com.